So now that most of my friends have children, I stumbled upon the dilemma of where to go in Madrid for lunches which are child-friendly? Well, you might say that most places are child-friendly already as Madrileños bring their children everywhere, to restaurants, bars until the wee hours.
But there are places that you can go where you can get delicious food and it's suitable for kids, with enough spaces to bring prams and attentive staff who are happy to cater to families.
Mama Campo
Located in the small, quiet square of Plaza de Olavide, Chamberi, Mama Campo is a really great place to bring kids. It's sheltered, there is a terrace where kids can run around and a healthy organic menu provided by Chefs Nacho Aparicio y David Yllera. The menu is made up of seasonal dishes made with organic ingredients. I highly recommend the slow roasted tomatoes roasted for hours at 40 degrees, absolutely delicious! They also offer workshops in Spanish for children. Prices aren't cheap with the cost being around 20 euros per person.
Trafalgar, 22. Nearest metro Bilbao
Hours: 13.30h to 17.30h and 20.30h a 1.30h. (closed on Sunday nights and Mondays).
Federal Café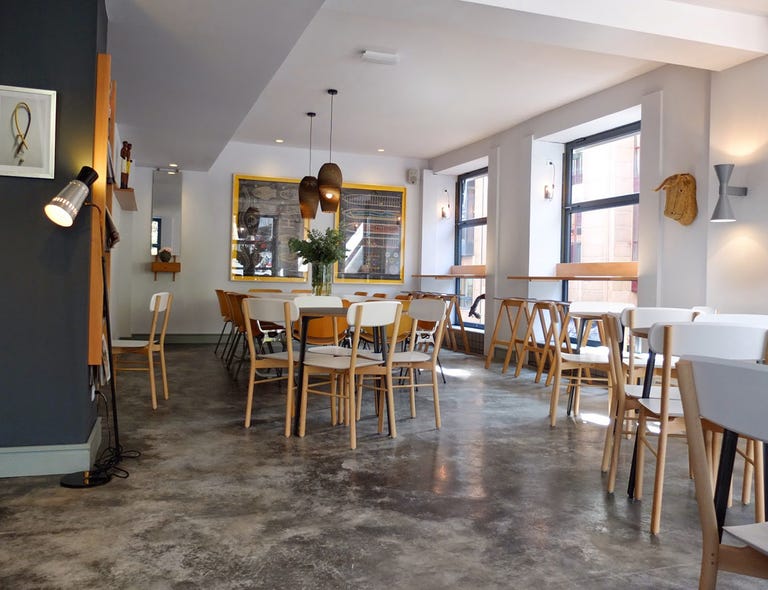 One of my favourite brunch places, it has become very popular with families. With it's hipster and eclectic vibe and fantastic menu of brunch, hamburgers, salads and more it's a fantastic place to spend a weekend morning, reading the paper and enjoying the food.
During the week it's a co-working space with lots of people spending all day long squinting at macbook screens and pretending to work.
Plaza de las Comendadoras, 9. Nearest metro Noviciado
From 8.00 to 1.00 h (Until 2.00h on Fridays and Saturdays. Sundays from 13.00h a 17.00h.). 
Lamucca de Pez
This place welcomes children, with menus for everyone in the family. The varied and international menu includes pizza, hamburgers, chicken curry and croquetas. Enough space for prams and attentive staff make this a great place to come as a family. This place is also hugely popular with the expat community of Madrid and there are often meetups taking place in the basement. It can get a little loud and noisy here.
Plaza de Carlos Cambronero, 4. Nearest metro Noviciado
Monday to Thursday 13.00h a 1.00 h. Friday to Sunday 13.00h to 2.00 h. 
Casa Jaguar
A friend of mine opened this restaurant over a year ago, it's a great place to eat Latin American Fusion food. The restaurant is a bit small and not recommended for prams but the restaurant is good for toddlers and small children, the waiters are attentive and they give them things to colour in and it's a way to introduce exotic flavours to your little ones.
Prices range from around 25 euros per person.
Calle de los Caños del Peral, 9. Nearest metro Opera.
From Tuesdays to Sundays 13.00 to 17.00 and 19.30 to 00.00. (Closed on Mondays) 
Taxi a Manhattan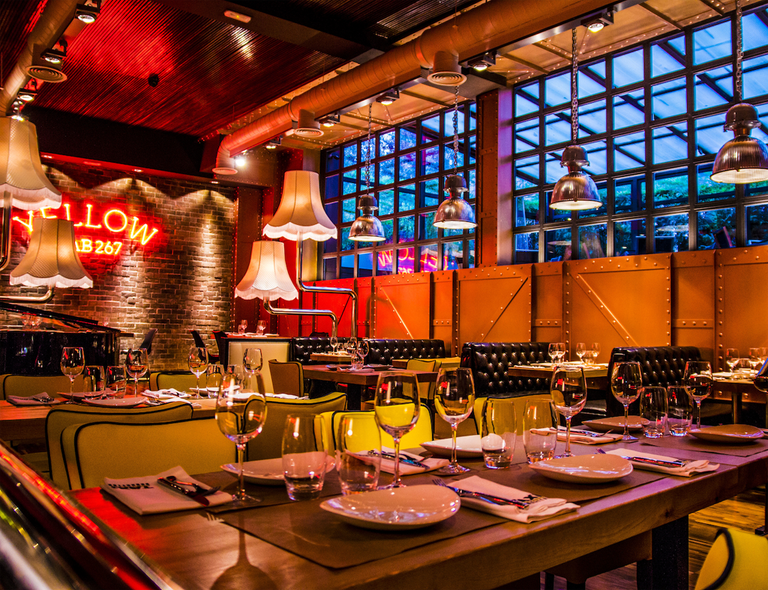 North American food for all the family. Taxi to Manhattan has an eclectic style and children are fascinated by the decoration. The food includes fish and chips, gourmet hamburgers, croquetas and the bonus is that there is a nice terrace to have drinks in the summer and for children to play in. Just across the road there is a small park with some swings that you can go to after lunch or dinner.
Prices from 15 euros per person.
Basilica 17. Nearest metro Nuevos Ministerios
From 12.30h to 2.30 h. 
Mür Café
This cosy little cafe located near Plaza deEspaña  combines the best of Madrid and London. I love to spend the day sipping on hot chocolate and enjoying the delicious cakes near the woodburning stove. Children can play in the small plaza and on Sundays they offer a brunch for parents who want to eat early. Only downside is that it is a very small place and not suitable for prams, but better for toddlers and small children.
Plaza Cristino Martos, 2. Nearest metro Plaza de España 
From 9.00h a 2.00 h (Saturdays from 10.00h.; Sundays from 11.00h to 22.00h.).
Jimbo Smokehouse
Jimbo Smokehouse is an North American style restaurant, large and spacious, with it's own smokehouse. The meat here is amazing!! Mac and Cheese, Smoked meat platters, craft beer. There is even a baby changing room in the bathrooms. This place has plenty of space for prams and food that children will love as well. Outside, there is a safe place for children to run and play without traffic.
Prices range from 17 euros per person.
Plaza del Descubridor Diego de Ordás, 4. Nearest metro Rios Rosas
From Monday to Sunday 13.00 – 00.00.