Segovia is a must-visit when you start living in Madrid. Home to a castle that provided inspiration for the Disney Cinderella castle and the mouthwatering roast suckling piglet (cochinillo) as well as a stunning Roman aqueduct.
How to get there:
By bus: From Intercambiador Moncloa (at metro Moncloa) there is a bus called "La Sepulvedana" that takes approximately 1 hour and a half for €16 per person.
https://lasepulvedana.es/rutas-horarios.php
By train: From Chamartin the high-speed AVE train takes only 28 minutes for approximately €20 – 38 per person for a roundtrip. There is another AVANT train that takes around 1 hour and a half. Remember to check which train you book!
From the train station there is a City Bus No. 11 that takes visitors to the centre but doesn't run so frequently.
Places to Visit:
It's best to get to Segovia early so that you can see as much as possible. The places worth visiting are the Cathedral, Plaza mayor and the famous Aqueduct.
Aqueduct of Segovia
Bringing water from the Rio Frio to the city, the 15km long aqueduct was constructed by the Romans around 1st Century AD and remained in use until the 19th century. It remains standing to this day as a testimony to the architectural feat of Roman construction.
This aqueduct is a UNESCO World Heritage Monument and well worth the visit.
Cathedral of Segovia
Nestled in Plaza Mayor, Segovia, you will find the impressive Segovia Cathedral. Built between 1525 and 1577 in the gothic style it was constructed to replace the previous cathedral located near the Alcazar that was destroyed by the Comuneros.
This is a UNESCO Heritage Site and can be visited year around except on the 24th, 25th and 31st of December and 1st and 6th of January.
Opening hours: 9:30am to 6:30pmGeneral Entrance €17 or €14 for students and children (Tickets include entrance to the Segovia Museum, Cathedral, Alcázar and the Museum of Antonio Machado).
Catedral
Plaza Mayor s/n
40001 Segovia
Tel. (+34) 921 462 205
Fax. (+34) 921 460 694
Plaza Mayor
A beautiful plaza filled with restaurants and cafes where you can enjoy the views of the Cathedral while sipping on a coffee, this is a picturesque stop you will not regret.
The Church of San Miguel is situated near the Templete was famous as the site where Queen Isabel was proclaimed The Catholic Queen on the 13th of December 1474 after the death of her brother, Enrique IV.
Alcazar of Segovia
The Fortress is located on a cliff at the fork of the rivers Eresma and Klamores, it served as a state prison, royal palace, Royal Artillery College and military academy at various stages of its lifetime.
It served as inspiration for the Disney Cinderella castle.
The Alcazar was adapted from an existing Arab fort, which itself was constructed on top of a Roman fort. The oldest documentation regarding the Alcazar dates back to the 12th century where it became the principal residence of King Alfonso VIII and his wife Eleanor.
Parts of the Alcazar had to be rebuilt in 1258 by King Alfonso X of Castille, he was known as "Alfonso the Wise" and made the castle his favourite residence later in his life.
In 1474 the castle played an important role in the rise of Queen Isabella I of Castille for she took refuge there shortly after her brother's death and the next day was crowned Queen of Castille and Leon in the San Miguel church mentioned above.
Today it is a UNESCO World Heritage Site.
Visiting hours: 10:00am to 6:00pm
Ticket prices included in Segovia Cathedral ticket.

Cochinillo – juicy roast suckling pig
This all star dish is famous in Segovia, suckling pig fed on 21 days of mother's milk and roasted to perfection with crispy golden skin and tender meat is a must to try.
Here are 3 of the top restaurants in Segovia to taste this Spanish delicacy:
1.    Restaurante José María (C/ Cronista Lecea, 11. Segovia)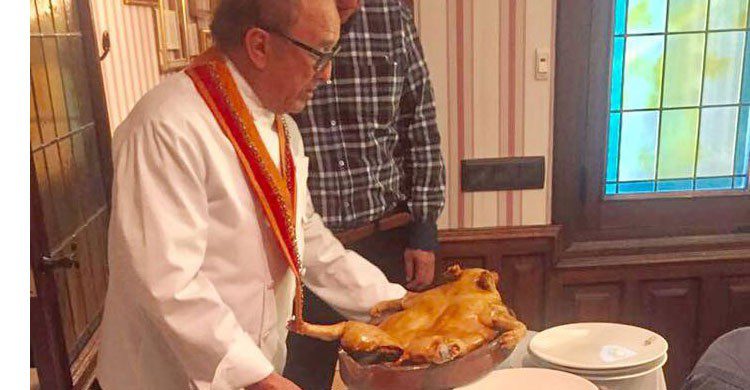 2.    El Bernardino (C/ Cervantes, 3. Segovia)
3.   Mesón de Cándido (Plaza de Azoguejo, Segovia)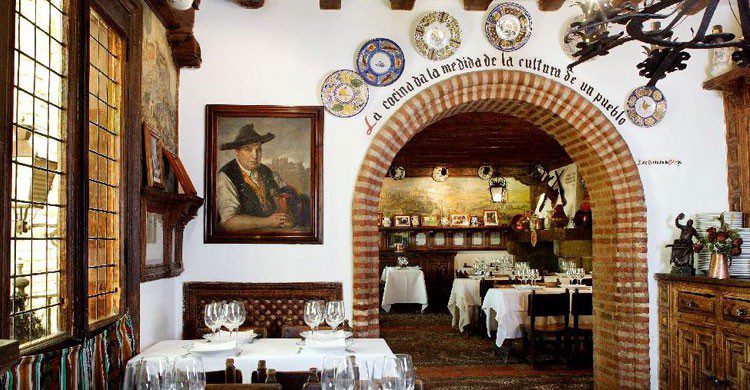 Other dishes to try:
Judiones de la Granja: The key to this warming stew are large white beans. The stew is creamy and flavorful, with the smokey flavours of chorizo and rich tocino (bacon) adding to the flavour of this dish.
Ponche Segoviano: A Segoviano classic, this light sponge cake is layered with pastry cream and wrapped in a thin layer of marzipan, and is so sweet it can make your teeth hurt.
I hope you enjoy your adventures in Segovia!